Skip to Main Content
It looks like you're using Internet Explorer 11 or older. This website works best with modern browsers such as the latest versions of Chrome, Firefox, Safari, and Edge. If you continue with this browser, you may see unexpected results.
Book Info: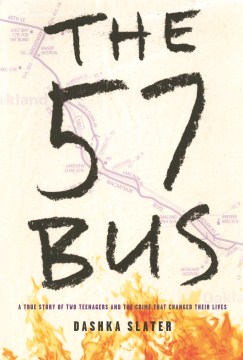 The 57 Bus by Dashka Slater
If it weren't for the 57 bus, Sasha and Richard never would have met. Both were high school students from Oakland, California, one of the most diverse cities in the country, but they inhabited different worlds. Sasha, a white teen, lived in the middle-class foothills and attended a small private school. Richard, a black teen, lived in the crime-plagued flatlands and attended a large public one. Each day, their paths overlapped for a mere eight minutes
More Books Like The 57 Bus
No Choirboy

by

ISBN: 9781250044457

Publication Date: 2014-08-12

In-depth interviews with teenage prisoners who have been sentenced to death and are awaiting execution on death row provides a powerful look at life behind bars, the effects their decisions have had on themselves and others, and their personal views on the death penalty itself.

Beyond Magenta

by

ISBN: 0763656119

Publication Date: 2014-02-11

Draws on six first-person interviews to share compassionate insights into the teen transgender experience, tracing each individual's emotional and physical journey as it was shaped by family dynamics, living situations and the transition each teen made during the personal journey toward acknowledgement of gender preference.

The Meaning of Life

by

ISBN: 9781620974094

Publication Date: 2018-12-11

Marc Mauer and Ashley Nellis of The Sentencing Project argue that there is no practical or moral justification for a sentence longer than twenty years. Harsher sentences have been shown to have little effect on crime rates, since people 'age out' of crime--meaning that we're spending a fortune on geriatric care for older prisoners who pose little threat to public safety. Extreme punishment for serious crime also has an inflationary effect on sentences across the spectrum, helping to account for severe mandatory minimums and other harsh punishments. Also features profiles of . . . people affected by life sentences, written by former 'lifer' and writer Kerry Myers.