Skip to Main Content
It looks like you're using Internet Explorer 11 or older. This website works best with modern browsers such as the latest versions of Chrome, Firefox, Safari, and Edge. If you continue with this browser, you may see unexpected results.
Book Info: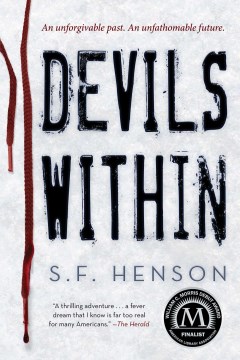 Devils Within by S. F. Henson
Nate was eight the first time he stabbed someone; he was eleven when he earned his red laces—a prize for spilling blood for "the cause." And he was fourteen when he murdered his father (and the leader of The Fort, a notorious white supremacist compound) in self-defense, landing in a treatment center while the state searched for his next of kin. Now, in the custody of an uncle he never knew existed, who wants nothing to do with him, Nate just wants to disappear.
Enrolled in a new school under a false name, so no one from The Fort can find him, he struggles to forge a new life, trying to learn how to navigate a world where people of different races interact without enmity. But he can't stop awful thoughts from popping into his head, or help the way he shivers with a desire to commit violence. He wants to be different—he just doesn't know where to start.
Then he meets Brandon, a person The Fort conditioned Nate to despise on sight. But Brandon's also the first person to treat him like a human instead of a monster. Brandon could never understand Nate's dark past, so Nate keeps quiet. And it works for a while. But all too soon, Nate's worlds crash together, and he must decide between his own survival and standing for what's right, even if it isn't easy. Even if society will never be able to forgive him for his sins.
More Books Like Devils Within
Black Card

by

Call Number: FIC TER

ISBN: 9781948226264

Publication Date: 2019-08-13

In an effort to be 'black enough,' a mixed-race punk rock musician indulges his own stereotypical views of African American life by doing what his white bandmates call 'black stuff.' After remaining silent during a racist incident, the unnamed narrator has his Black Card revoked by Lucius, his guide through Richmond, Virginia, where Confederate flags and memorials are a part of everyday life. Determined to win back his Black Card, the narrator sings rap songs at an all-white country music karaoke night, absorbs black pop culture, and attempts to date his black coworker Mona, who is attacked one night. The narrator becomes the prime suspect and earns the attention of John Donahue, a local police officer with a grudge dating back to high school. Forced to face his past, his relationship with his black father and white mother, and the real consequences and dangers of being black in America, the narrator must choose who he is before the world decides for him.

Bang

by

Call Number: FIC LYG

ISBN: 9780316315500

Publication Date: 2017-04-18

A new friend and their YouTube cooking channel help fourteen-year-old Sebastian move on from accidentally shooting his infant sister ten years earlier.

After the Shot Drops

by

Call Number: FIC RIB

ISBN: 9781328702272

Publication Date: 2018-03-06

Told from alternating perspectives, Bunny takes a basketball scholarship to an elite private school to help his family, leaving behind Nasir, his best friend, in their tough Philadelphia neighborhood.